Take the train onto the ferry across the Straits of Messina
A wonderful way to travel from Sicily to mainland Italy (or you can take it coming back) is to travel the rail journey that takes you from Syracusa or Taomina to the Roma Termini.
You can travel overnight on a sleeper, but why miss the amazing journey. The best option is to take the day train, which leaves Syracusa at 8am, best to book the day before as the train leaves every day, the cost is 55 Euros for the full journey.
The rail ticket includes reserve daytime seats and the journey is amazing, after a wonderful coastal journey through the south of Sicily, the train actually shunts into the ferry boat, engine, carriages and all, for to cross the Strait of Messina to the Italian mainland.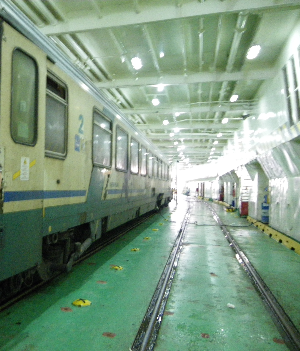 The train actually shunts onto the ferry for the crossing
Time now to climb out of your carriage in the bowels of the ship, to climb up two decks to a breathtaking view of the straits and the crossing ahead. Relax here with a lunchtime snack or a cappaccino for the 40 minute crossing.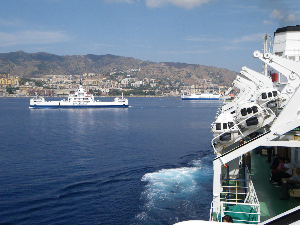 Wonderful views across the straight of Messina
Just before docking, make your way back to your train seat, once in the carriage, the train shunts off the boat and continues itís journey with a fantastic scenic coastal trip up the west side of the leg of Italy.
You can jump off anytime, but we carried on to the Rome Termini station.
Amazing trip, too good to miss, should be catalogued as one of the great train journeys.